Need a fast way to safely replace missing teeth? Dentures aren't your only option! A great alternative to consider are our North Miami Beach dental implants; more specifically, our teeth in a day or All on Four procedure.
How All-on-4 Implants Work
Since implants are so durable and predictable (they have a 98% success rate) we can use as few as four of them to support an entire hybrid denture. These streamlined dentures don't cover your mouth the way a conventional plate does. Instead, they follow the natural "U" shape of your mouth.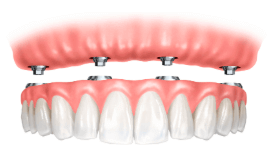 Once affixed onto the four supporting implants, your restoration stays in place for good. You won't have to take them out at night or worry about them slipping out of place in front of friends.
Same day dental implants do need to be adjusted/updated a few months after your initial implant installation. But you'll never have to go without teeth! Instead, our North Miami Beach implant dentist will affix a more permanent version of your prosthesis once the implants have fully integrated with your bone.
Should You See a Specialist?
You don't have to look far to find the best implant dentist in North Miami Beach. SEDA Dental has board-certified specialists in our network, providing you with the expert level care you need, no matter how many dental implants you're getting.
Our North Miami Beach dental implant specialist and general dental team will work with you to find a smile reconstruction plan that fits your lifestyle, expectations, timeline, and budget! There's no need to visit a 3rd party surgeon; we provide the comprehensive care your smile deserves.


For more information on dental implants (North Miami Beach) and implant costs, call SEDA Dental to request a no-hassle consultation! New patients are always welcome.